What's hyaluronic acid, and why has it been such a skin care craze? It's typically known for its ultra hydration properties for your skin to promote a firmer complexion, but we've also harnessed natural sources of hyaluronic acid to create another important function that brings your skin care game to a whole new level. Keep on scrolling to discover hyaluronic acid benefits in beauty like never before. 
What is Hyaluronic Acid?
Hyaluronic acid is a carbohydrate molecule that's actually already found in the human body. It keeps our cells hydrated, lubricates joints, and repairs our body. What's more, hyaluronic acid has been touted as the "key molecule involved in skin moisture."  Because of how it can bind to water, hyaluronic acid is crucial to keeping skin hydrated and youthful. It's even touted as being able to hold up to 1,000 times its weight in water! And once it delivers hydration to your skin cells, it also helps lock in the precious H2O to make sure nothing goes to waste. Hyaluronic acid is important for wound healing, tissue repair and the overall healthy functioning of all your skin cells. That means it helps your body retain collagen (an essential protein for firm skin), elasticity, and moisture in your skin.  
Hyaluronic Acid Benefits
Why do hyaluronic acid's benefits enjoy such celebrity status? Because hydration is key to plumper, smoother, and more radiant skin. As we age, our hyaluronic acid levels – similarly with our collagen production – begin to dip down, making it harder for our skin to retain moisture. No wonder we start noticing dry patches, fine lines and wrinkles. Combined with the damaging effects of free radical damage from UV rays and pollutants, our skin really needs a helping hand. That's when adding hyaluronic acid to your skin care routine can go a long way. We like to call hyaluronic acid "skin care's little miracle" because it's effective for all skin types, and easy to apply to your skin daily with a skin hydrating and plumping natural toner.  
Hyaluronic Acid for Skin
Hyaluronic acid benefits go beyond intensive hydration. Most commonly, conventional cosmetic companies use polymers like silicone to help deliver active ingredients deep into the skin. That sounds great and all, but unfortunately these polymers can be likened to liquid plastic that may accumulate in the body and cause harm.  
Fortunately, we have your back. Instead of using polymers, we developed a way to use hyaluronic acid as a vehicle for delivering active ingredients deep into your skin cells. We accomplish that by using tiny, different sizes of hyaluronic acid to act as magnets towards your skin cells and force penetration of hydration and nutrients. Hyaluronic acid isn't just carrying hydration into your thirsty skin cells; it's also sending nutrients deep into your skin tissue. That's a double whammy for ultimate skin nourishing.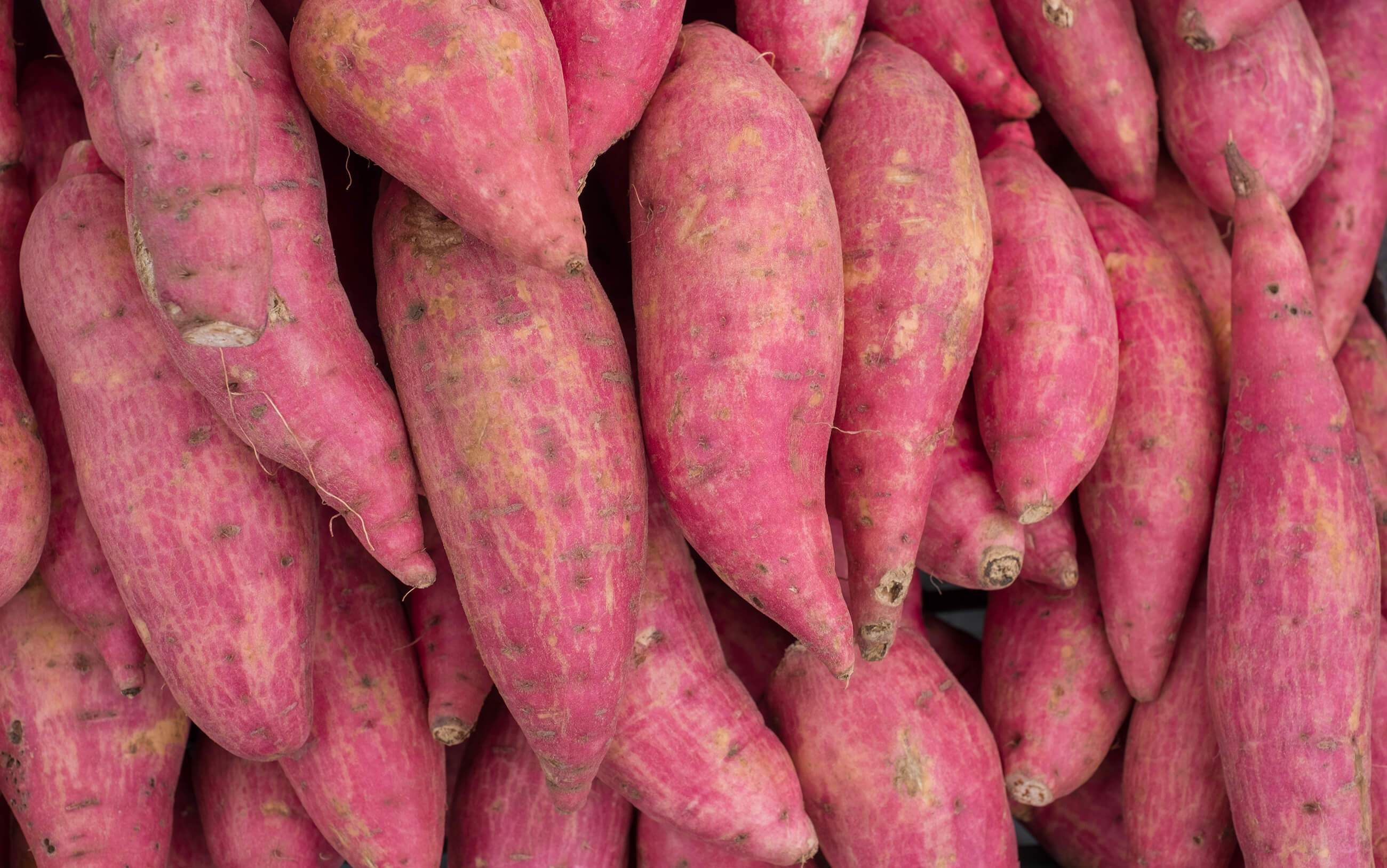 Hyaluronic acid is packed with benefits for different skin types, from oily skin to aging skin. If you're wondering what this hard-working ingredient could do to solve your skin woes, keep reading to discover the benefits of hyaluronic acid by skin type! 
Hyaluronic Acid for Oily Skin and Blemish-Prone Skin:
The American Academy of Dermatology recommends hyaluronic acid as a moisturiser for blemish-prone and oily skin types. The reason is simple: hyaluronic acid helps your skin to retain moisture and heal inflammation without clogging overactive pores.  
While harsh chemicals that are sometimes used to treat blemishes can strip your skin of its defensive barrier — leaving you prone to spot-causing inflammation — hyaluronic acid helps to bolster your lipid barrier, protecting your skin against irritants. It can be tricky to find the right, non-comedogenic moisturiser for blemish-prone and oily skin, but a product with hyaluronic acid is a good place to start. 
Hyaluronic Acid for Mature Skin:
Research supports the idea that hyaluronic acid can help to counter some of the signs of skin ageing that encroach upon us as we get older. The natural levels of hyaluronic acid in our skin decrease as we age, leading to decreased elasticity and softness, and the formation of fine lines and wrinkles.  
By boosting your skin's hyaluronic acid levels with the right product, you can help to restore some of that suppleness and elasticity, and minimise the appearance of fine lines and wrinkles. Hyaluronic acid can also help to plump your skin, making it appear more youthful and energised.
Hyaluronic Acid for Dry Skin:
Studies have shown that hyaluronic acid serums can be more effective than conventional moisturisers when it comes to treating dry skin. Hyaluronic acid benefits dry skin by deeply delivering hydration, and helping your skin to retain that hydration over time — making it an excellent, long-term solution to dry skin.  
The right hyaluronic acid serum can be even more beneficial when you follow up with a night cream like our Retinol Restorative Overnight Balm. It'll help to restore brightness and glow to complexions that have been dulled by dryness, and will also help to ease the redness and itchiness associated with dry skin. 
Hyaluronic Acid for Sensitive Skin:
Due to its gentleness, hyaluronic acid is also suitable for use on most sensitive skin types. It can even benefit sensitive skin by helping to boost its natural lipid barrier, defending it from irritants. Even allergy-prone skin may benefit from a hyaluronic acid serum, which could help it to defend itself against environmental stressors. (We always recommend doing a patch test on your skin before using any new product on your face, especially if you have sensitive skin!) 
Hyaluronic acid is a multi-dynamic skincare ingredient that can benefit almost any skin type, and can be found in an array of different products. At 100% PURE, we love to include hyaluronic acid in serums, masks, and moisturisers — products in which hyaluronic acid can achieve its full, moisture-enhancing potential.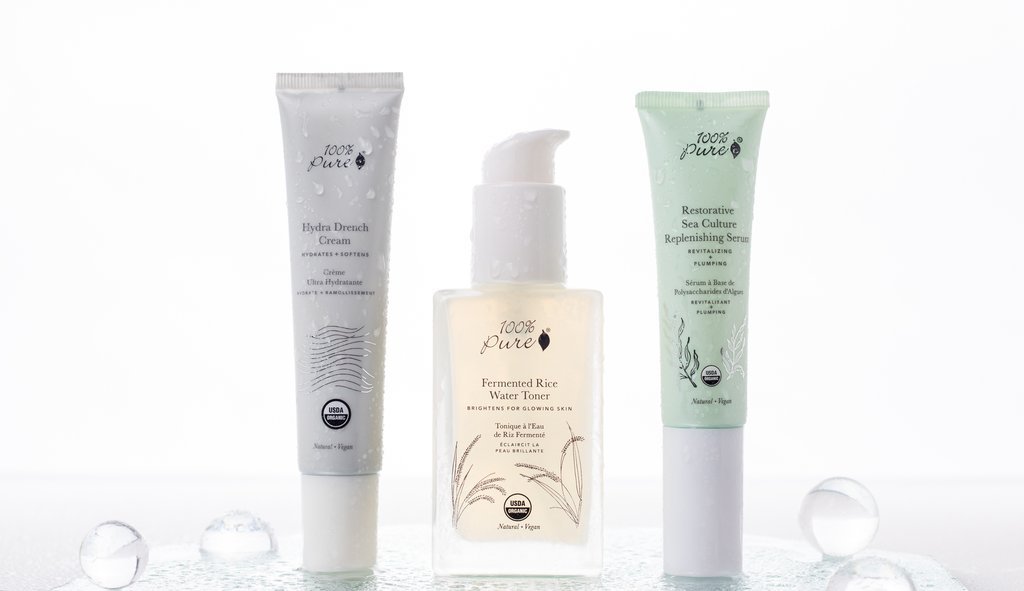 Natural Sources of Hyaluronic Acid
We firmly believe that Mother Nature is the best teacher, and there's proof in that we source our hyaluronic acid from Japanese sweet potatoes. Another natural source of hyaluronic acid? Seaweed collagen (no wonder Ariel enjoyed such luscious locks!). Hyaluronic acid is what makes seaweed collagen a viable alternative to its animal counterpart, type I collagen, which is synthesised from the bones and skin of animals (no thank you!). Hyaluronic acid boasts all of the same properties as animal collagen, plus it has lower rates of allergic reaction, a better rate of absorption, and is cruelty free. 
How to Use Hyaluronic Acid for Skin
An easy way to enjoy hyaluronic acid benefits on a daily basis is to use a natural toner. Need a refresher on why toners are so important in your skin care routine? They prep your skin so that it can absorb the thicker formulas in the rest of your skin care routine (especially important if you're following a 10 step Korean skin care routine!). That's why we packed our toner with hyaluronic acid. We believe in working smarter with natural ingredients to deliver the most concentrated results for your skin.