Pomegranates are stunning scarlet fruits filled with juicy, succulent kernels. Their unique beauty is only rivalled by their health and beauty benefits.  
Pomegranate seed oil nourishes our skin with its massive store of vitamin C – one of the biggest vitamins in skin care. Pomegranate offers regenerative, anti-inflammatory, antioxidant, and anti-ageing properties that promote bouncy, glowing skin. So how can you squeeze this ingredient into your routine? 
Origin, Cultivation, and Production of Pomegranate Seed Oil
Pomegranate trees have been growing on earth since as early as 4000, B.C.E. Originating from the Mediterranean, they were cultivated further east throughout Iran and India, and later across Southern Europe. Pomegranate trees can also thrive in the United States, especially in drier climates. 
To extract pomegranate seed oil, ripe kernels are cold-pressed to uphold the quality of their enzymes, nutrients and vitamins. The final result is an odourless oil with a thin, fluid consistency that may be pale or with a slight amber hue. At first glance, this unassuming oil looks no different from other carrier oils. So how does pomegranate seed oil stand apart? 
Famed as the "fruit of life", the pomegranate has been shown in several examples of culture as a symbol of fertility, abundance, and divine power. Based on our research, its nutritional content may just live up to the legend.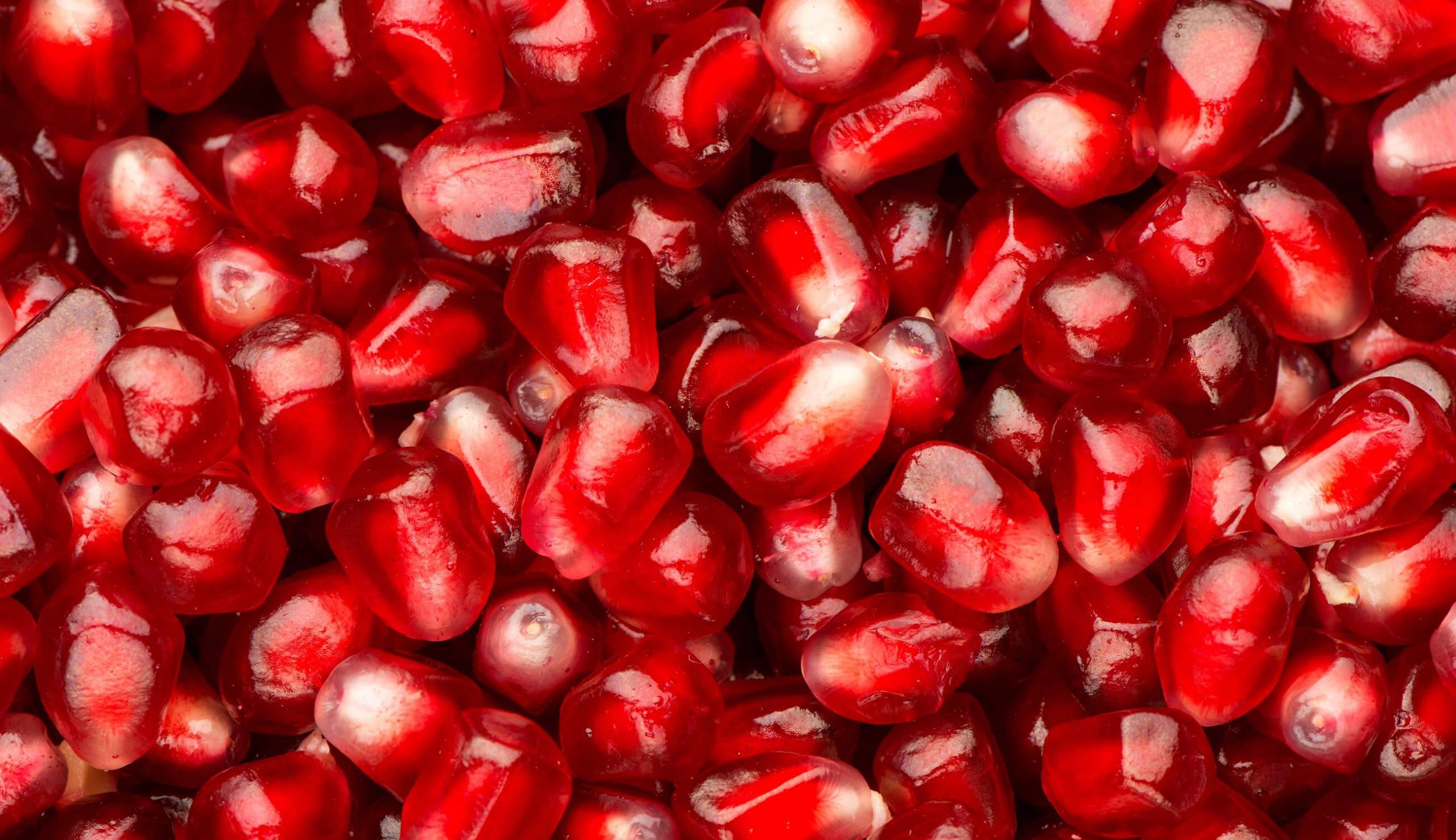 Key Nutrients in Pomegranate Seed Oil
In addition to containing body-nourishing nutrients like protein, fibre and folate, pomegranate seed oil is known to contain high levels of vitamins, minerals, and omega fatty acids. This oil is particularly high in the antioxidants vitamins C and K, and is packed with up to 65% fatty acids! 
Omega-5 fatty acids are considered to be incredibly powerful antioxidants, which work hard to protect your skin from the harmful free radicals we encounter in our everyday lives. That being said, pomegranate seed oil contains a wealth of other omega acids, which have a diverse set of abilities ranging from softening skin to clearing sebum from our pores. 
So without further ado, let's see the 7 ways in which our skin benefits from pomegranate seed oil. 
#1: Anti-Ageing Benefits
Based on its antioxidant, anti-inflammatory and moisturising properties, you may have guessed by now that pomegranate seed oil is a viable anti-ageing ingredient. Antioxidants like vitamin A (or retinol) and vitamin C (or ascorbic acid) work to fight free radicals while fading fine lines and wrinkles.  
However, there's even more to this skin-preserving powerhouse. A compound unique to pomegranate oil called punicic acid can help to improve elasticity and even skin tone while encouraging skin regeneration. Our Retinol PM Eye Cream is a fusion of these three ingredients. Hyaluronic acid, honeysuckle, and jojoba join the mix to renew the delicate eye area. 
#2: Anti-Inflammation, Pro-Hydration
As an anti-inflammatory, pomegranate seed oil has demonstrated an affinity for reducing redness or dry, flaky skin, especially thanks to the high concentration of omega-6 fatty acids oleic acid, linoleic acid, and palmitic acid. With its unique molecular structure, pomegranate seed oil is able to deeply penetrate skin and hair to deliver intense hydration. 
Having such a wide variety is especially useful for the skin, because these fatty acids help the skin in different sets of ways. For example, linoleic acid promotes moisture retention, while palmitic acid works as an effective emollient. That's how we can guarantee our Fruit Pigmented® Pomegranate Oil Anti Ageing Lipstick won't dry out your lips! 
Thanks to these skin-softening and moisturising nutrients, pomegranate seed oil may be especially helpful for those who suffer from eczema, and psoriasis.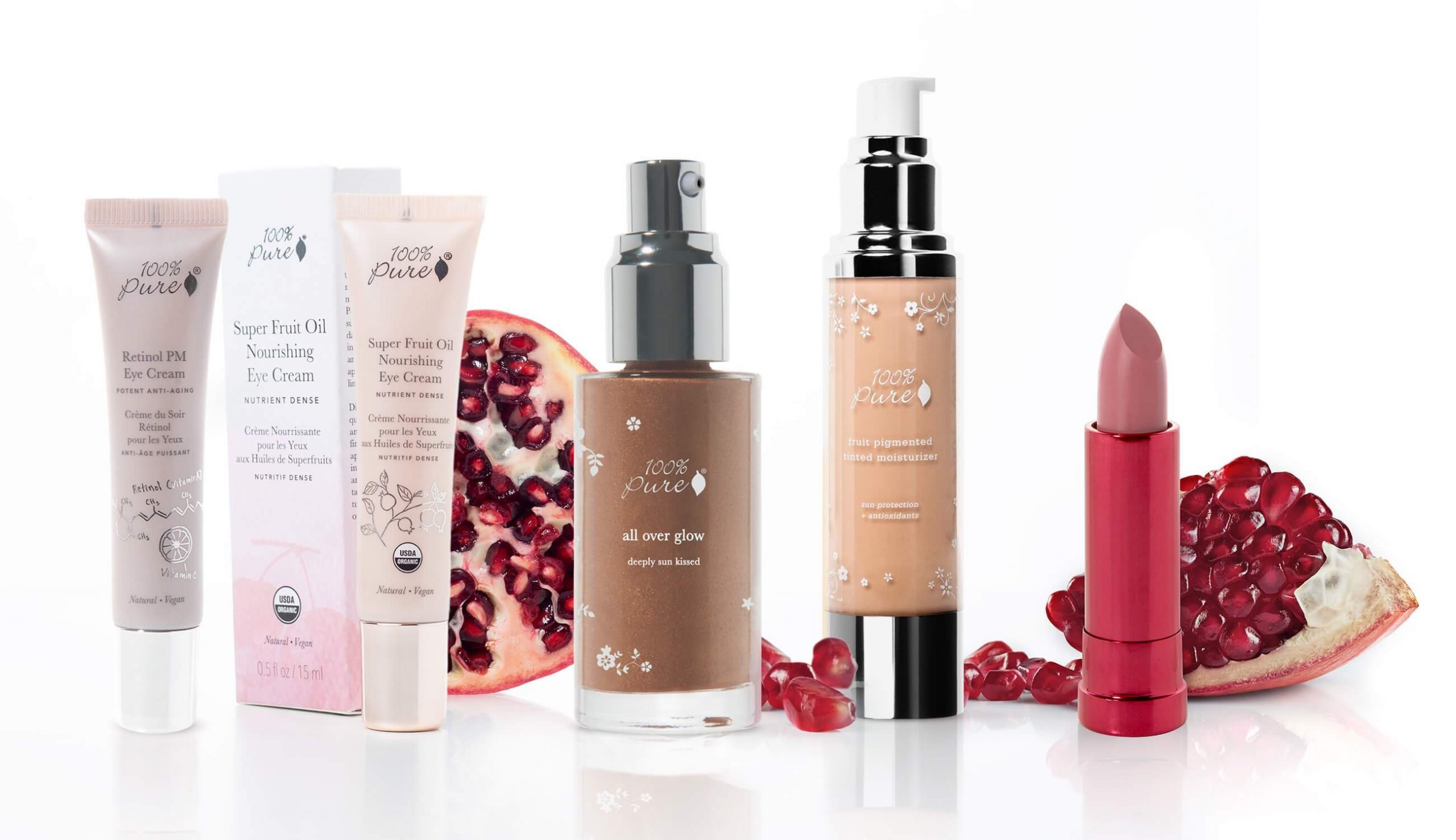 #3: Fades Scars and Brightens Skin
Whether your skin is a bit drier or rougher to the touch than usual, or if you have scarring or hyperpigmentation, pomegranate seed oil may offer salvation. 
Studies have shown that pomegranate seed oil can encourage the production of keratinocytes, which help fibroblasts stimulate cell turnover. What this means for your skin is increased barrier function to defend against the effects of UV damage, radiation, water loss, bacteria, and more. Additionally, the naturally high reserves of vitamin C, punicic acid, and phytosterols help stimulate collagen production and cell regeneration to reveal softer, smoother skin. 
#4: Levels Up Your SPF
Pomegranate seed oil may even be able to boost our daily sun protection efforts. According to a 2001 study, it was found that a traditional sunscreen was made 20% more effective when mixed with pomegranate seed oil. Its anti-inflammatory properties will also help your skin recover from sun damage. 
While pomegranate seed oil alone won't provide you with proper sun protection, it may add an edge to your SPF. We recommend pairing sunscreen with our lightweight Fruit Pigmented® Tinted Moisturiser, which uses pomegranate seed oil plus white tea and acai extracts to provide dewy, light-to-medium coverage. 
#5: Firmer, Bouncier Skin
As we age, depleting collagen levels cause our skin to lose its firmness. Collagen is the key building block in our skin, providing both structure and elasticity – but our bodies' natural reserves are finite. 
Luckily, we can use pomegranate seed oil to slow the ageing process, while improving overall firmness and elasticity. This is thanks to its supply of vitamin C, punicic and linoleic acids, while a spectrum of other antioxidants work to improve circulation and brighten the skin. One study even demonstrated that pomegranate seed oil can improve collagen levels!