If you're active on any social media platform, you'll know that eyebrows are a huge deal. There's even a style of eyebrow makeup named after Instagram itself, and we wrote a guide for glam Instagram brows so you wouldn't have to miss out. But before you get experimenting, how much do you know about achieving the perfect eyebrow shape for you? There's a whole range of eyebrow shapes you can play around with for each occasion, and also an eyebrow makeup tool you must incorporate into your makeup routine so that your brow hairs will bow down to your bidding, no matter which eyebrow trend you subscribe to. It's time to go back to basics for eyebrow makeup shaping and review the importance of an eyebrow brush. 
Eyebrow Makeup Shapes
First things first, let's talk about eyebrow shapes. With so many mind-blowing eyebrow trends out there like the squiggle brows or McDonald's brows, it can be hard to even decide which eyebrow shape would best suit your look. As we discussed before, natural-looking full brows are at the frontline in eyebrow makeup trends, and a whole new form of brow treatment has sprung up just for the trend: microblading. Of course, if brow treatments aren't your thing and you'd rather take things in your own hands, you can still achieve the perfect natural brow look – or even Instagram glam brows! – with the right eyebrow makeup tools. But of course, it might be helpful for you to know which eyebrow shape you're starting off with, because everyone is different!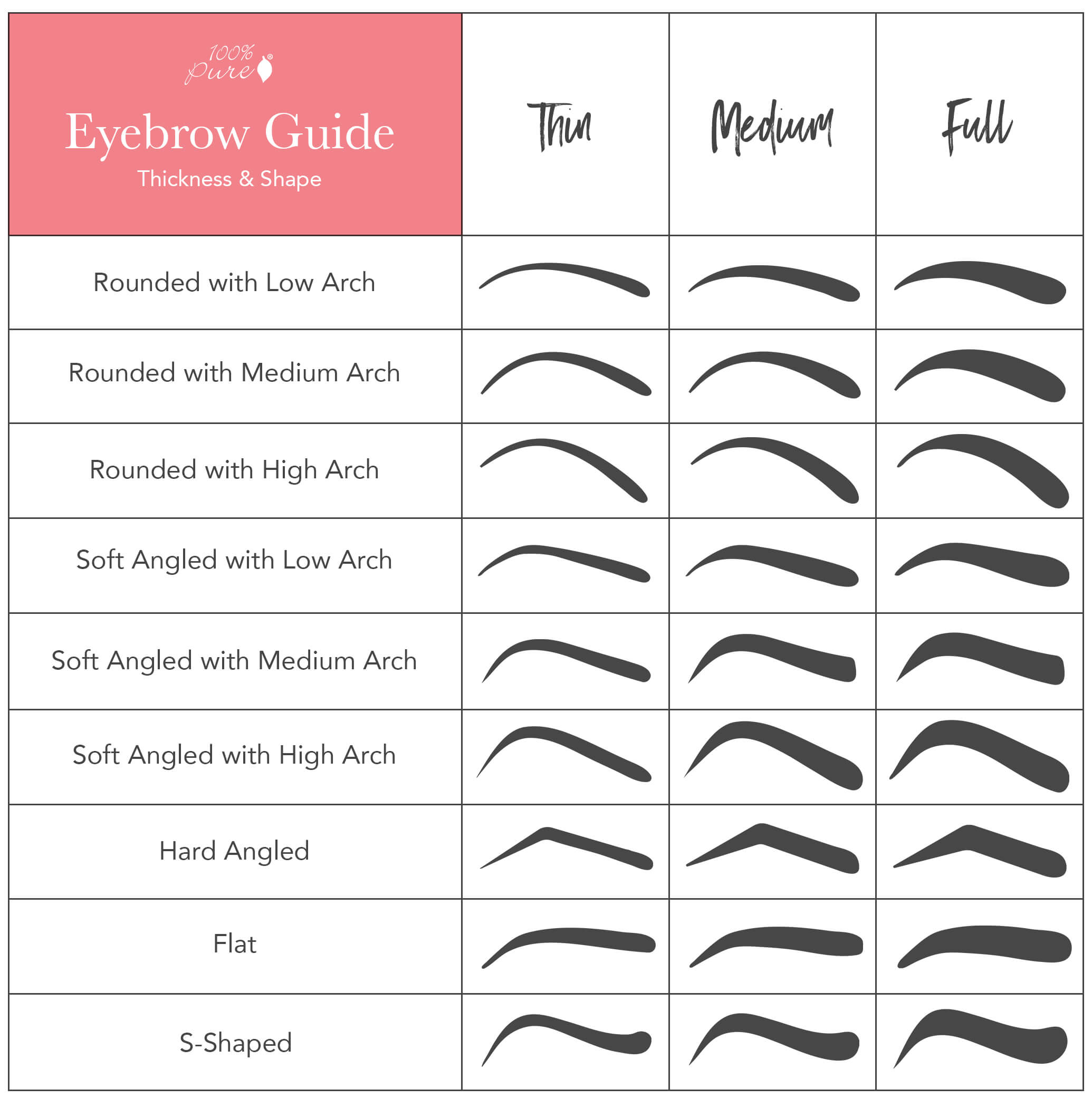 We're going to cover three main components of eyebrow shapes. First of all is your eyebrow thickness. You might have thin eyebrows that have naturally always been that away, or perhaps because you over plucked them a bit, back when your mother was gushing to you about the pencil thin eyebrows trend that Clara Bow jumpstarted all the way back in the 1920s (sparse eyebrows can be fixed!). Maybe you're the proud owner of a pair of fuzzy caterpillars that sometimes speak louder than your words. What's been trending for the past year is right in the sweet spot of natural-looking medium brows – perfectly filled in brows with a natural feathered texture, with just enough substance to look like you were born with on fleek brows. 
Next we have the arch height. The curve of your brow can go way high up above (not too high, or that would result in a constantly surprised looking expression), or down low for ultimate sleekness. Finally, there's the arch shape that can adjust based upon how angular or rounded you want your brows to be. A general rule of thumb is that you want your face to look as balanced as possible. For example, flatter eyebrows might flatter a longer face shape, and a rounded arch can soften angular faces.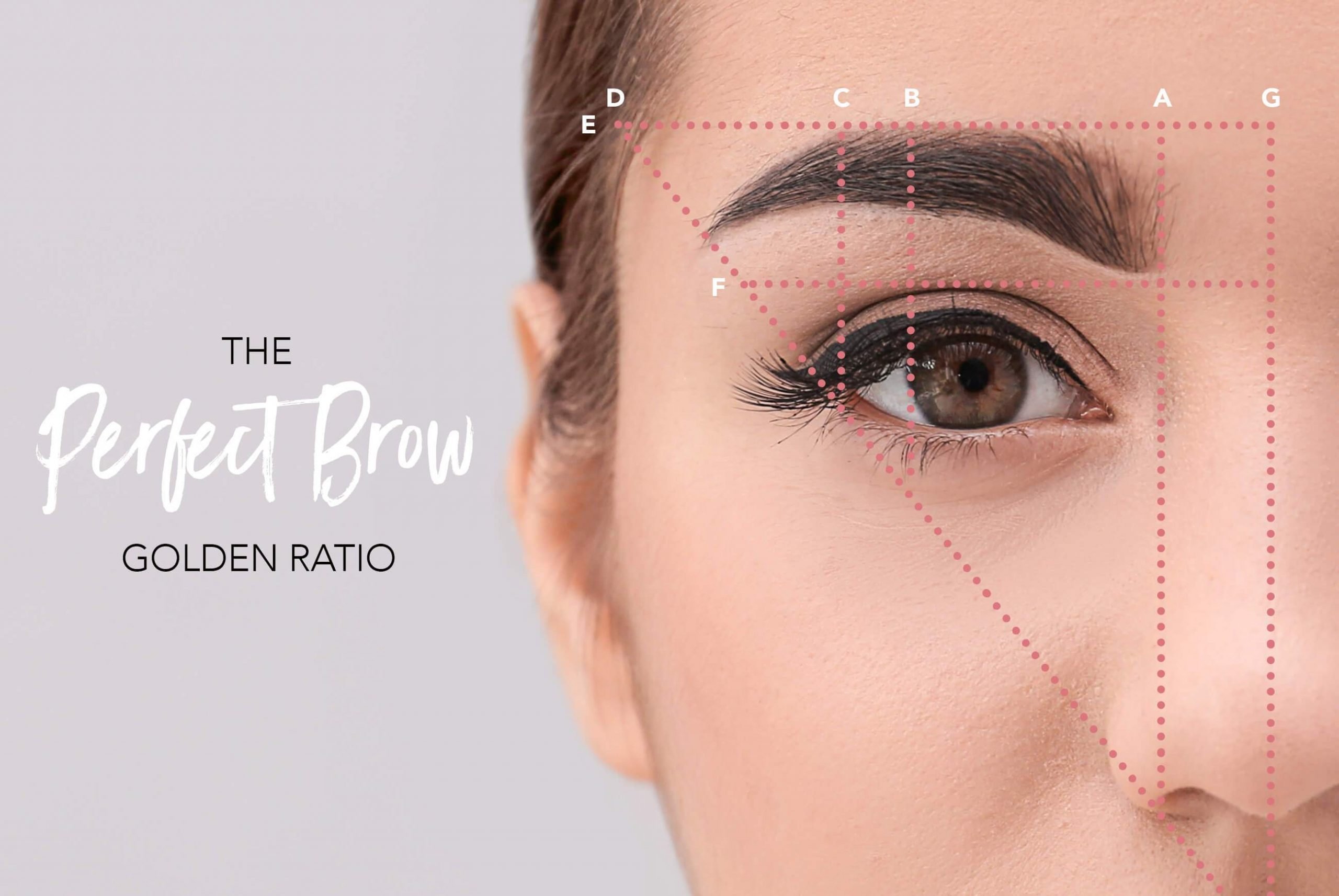 The Perfect Brow Golden Ratio
While each person's natural eyebrow shape is different and we want to rock different looks for every occasion, it's still possible to figure out the ideal proportions your brows need to be in to best suit your face and complement your natural features. Meet the perfect brow golden ratio that was pioneered by Anastasia Soare to create the brows of your dreams. The golden ratio naturally occurs in nature and the human body, so following this eyebrow shaping technique is a fantastic way to achieve natural-looking brows that are still polished enough to make you look like you were born to be a goddess. 
The diagram might scare you off, but in reality, there are only three simple steps to plotting out your ideal eyebrow shape. First of all, the head of your brow (point A) should begin directly above your nostrils. Next, the highest point of your brow arch (point C) should run in a straight line through the centre of your iris and the tip of your nose. Finally, the tail end of your brow should be in line with the outer corner of your eye and nose. Who knew eyebrow math could be so effortless! Try this technique out with some essential eyebrow makeup tools. 
Eyebrow Makeup Tools for Shaping

How to Use an Eyebrow Brush
Achieving your dream eyebrow begins with an eyebrow brush.  Just like how you brush your hair before styling it, your eyebrow hairs need taming too! Make sure to brush upwards and follow the direction of brow hair growth for a sleek, polished look – no matter your natural brow thickness. Flip over the brush to the angled tip to apply an eyebrow powder with short strokes throughout the entire brow – again in the direction of your brow growth for a dreamy airbrushed look. But don't forget about the handy spoolie just yet! For full coverage and to eliminate sparseness, brush over your brows again with the spoolie to distribute pigment for a natural finish. The spoolie end of our eyebrow brush blends out eyebrow makeup and keeps your perfectly sculpted look in place, essential for that natural full brow look. 
If you want to glam up your brow game, dip the angled brush end into a multi-tasking brow gel to line along the bottom of your arch and define the brow tail. Our angled brush tip was designed for precision and crafting the perfect brow, so you can feel like a brow guru in no time.