So you might be familiar with all the different types of foundation – from powder to cream, and even a revolutionary serum-like water foundation – but what exactly is BB cream? What's more, how do I properly apply it for a flawless finish? And does it really fall into the foundation category, or is it a primer – or both?!  
The cryptic name "BB cream" doesn't tell us much at all, so that's why we've created this helpful BB guide. Stop searching because we (the self-proclaimed foundation experts) are here to bring you the full scoop on all things BB cream, and to shed light on this multi-tasking foundation.  
Whether you've spotted it in the beauty aisle, on your favourite beauty blogger, or are still a complete BB cream newbie, we're ready to show you why you'll fall in love with (or rediscover) this multi-tasking makeup hero. 
What is BB Cream?
It's time to demystify the name – what exactly does BB stand for? BB stands for 'blemish balm' or 'beauty balm', but it does more than just your standard tinted face cream. BB creams are specially formulated to act as a 3-in-1 foundation. Working together, the three elements of any flawless complexion should consist of foundation, primer, and moisturiser. BB Cream is your all-in-one daily foundation, cutting down three steps into one. Hooray!  
BB Creams exploded onto the Korean cosmetics scene when Korean women wanted alternatives to traditional foundations, which were too heavy and thick for their evolving beauty preferences. While a BB cream is more lightweight than the usual cream foundation, it still offers medium to full coverage as a normal foundation! Its smoother texture also allows BB cream to function as a primer by evening out skin tone for flawless makeup application. It often contains moisturising ingredients which can be a dream come true for those of you looking to cut down on steps in your daily beauty and skin care routine. 
BB Cream, CC Cream, or DD Cream?
If you've heard of one beauty cream, you've probably heard of the others; CC and DD Cream.. As we discussed, BB creams are meant to provide clean skin with skin healthy nutrients, as a 'balm' would do, with anywhere from light to full coverage thrown in. Our BB Cream has medium-full buildable coverage, making it able to correct imperfections. The term "CC" stands for 'colour correcting' or 'complexion correcting'. A CC cream is designed to cover redness and perfect skin's tone with light-diffusing particles. Last but certainly not least, "DD" stands for 'daily defence'. DD creams contain protective ingredients but normally won't provide the same level of coverage as a BB cream. 
Our natural BB creams are a truly luxe beauty experience, and provide moisturisation and luminous coverage all in one. They're lightweight yet creamy, making them ideal for flake-free and clump-free, long-lasting wear. BB creams are formulated to help cover lines, scars, and provide a dewy, luminescent glow for your skin. Oh, and did we mention that they give you buildable medium to full coverage, for a flawless complexion? Yes, please!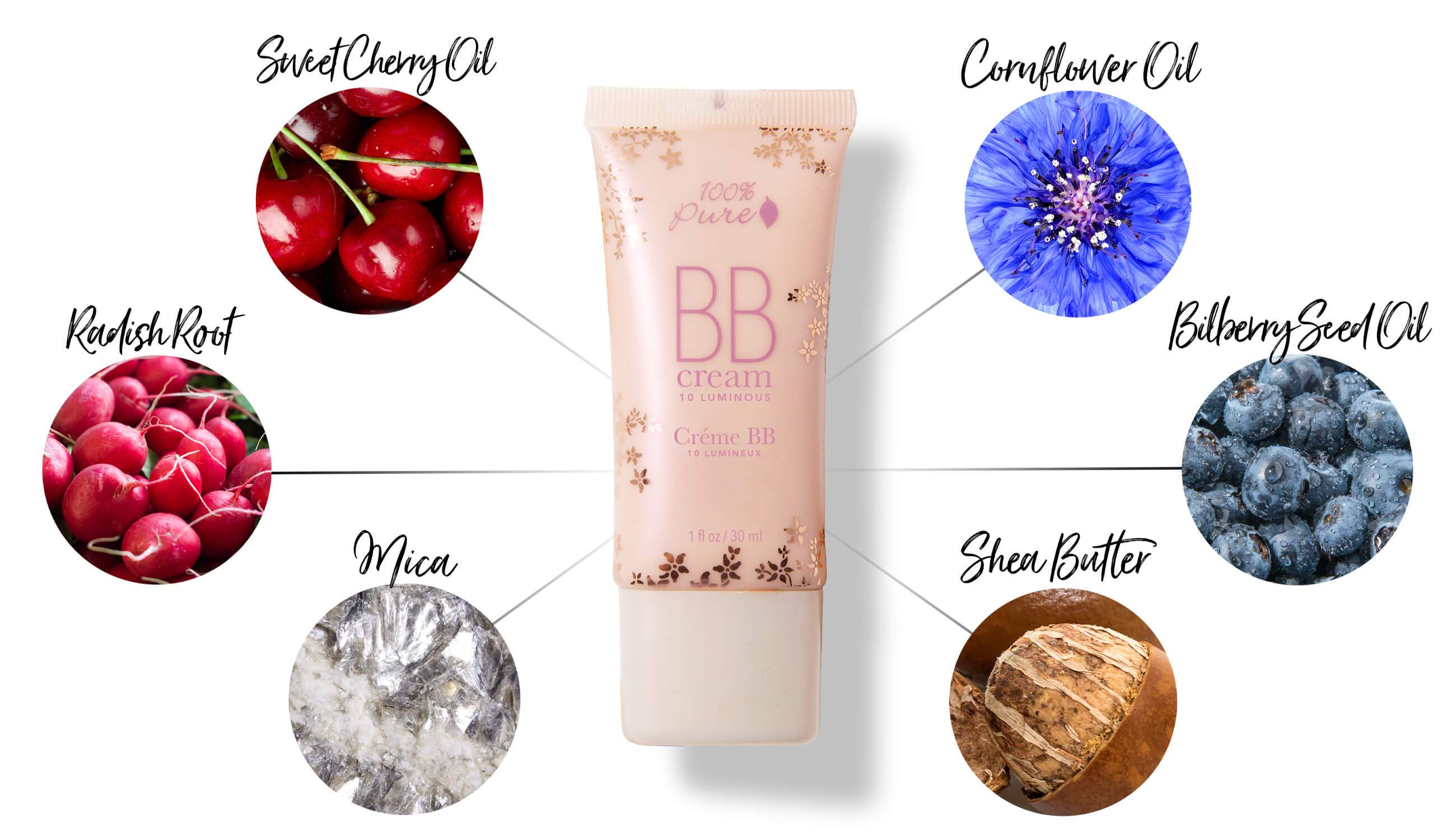 Why Use BB Cream?
We're not recommending that you can use a BB cream to replace skin care, but we are touting it's multi-tasking abilities to shorten your beauty routine. We recommend you follow a daily morning and night skin care routine to keep your complexion healthy and glowing.  
What you need to know is that your skin is constantly absorbing everything it touches. That includes sunlight, pollution, and yes – even the skin care and makeup you put on your skin. The biggest perk of a natural BB cream is that you're enjoying smooth coverage without the chemicals found in conventional cosmetics. Makeup should be as healthy as skin care, and skin care should come without any harmful toxins that can irritate the skin. We think that's a pretty easy argument to make! 
We're all about work smarter, not harder. A natural BB cream is meant to moisturise while providing flawless, smooth coverage on top of your daily skin care routine. In addition to offering a medium to full coverage, our natural BB Creams contain antiseptic lavender and rosemary to refresh and soothe skin. Skin loving aloe vera, vitamin E, and shea butter make this formula a nourishing choice for normal to dry skin types. Responsibly sourced mica gives the natural formula a slight shimmer for an illuminated complexion. Bilberry and raspberry seed oil lock in moisture to help promote smooth, more youthful skin.  
The lightweight texture and adjustable coverage of our natural BB cream make it perfect for a no makeup look or the base for any long-lasting makeup look. If you're short on time, blending a layer onto your face to even out your skin tone and texture will have you out the door fast with minimal time spent but still looking fresh and ready.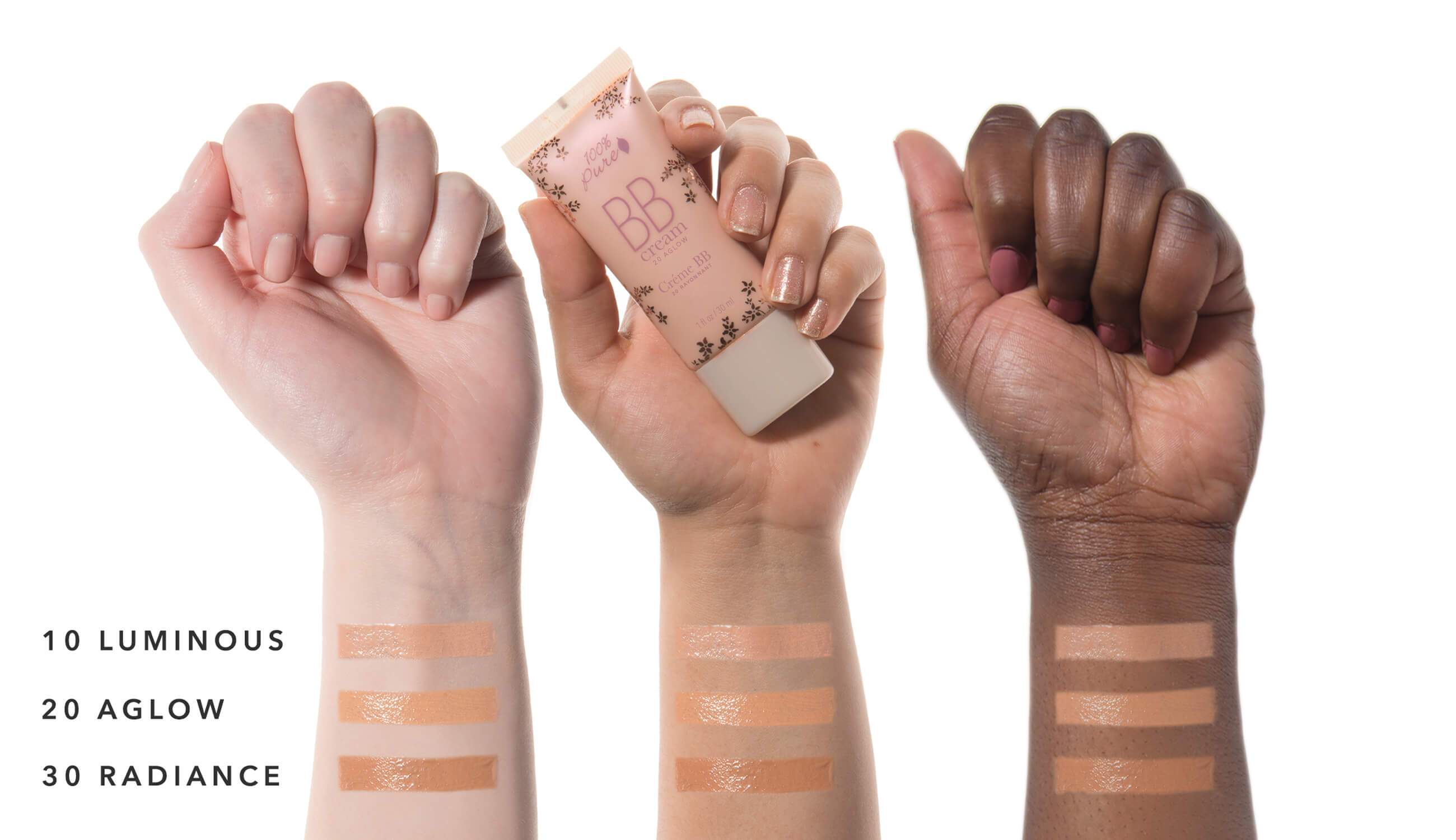 BB Cream Swatches
Skin Type: Normal to Dry 
Coverage: Medium to Full 
Finish: Dewy 
Shade Range: 3 
Shades:
BB Cream Shade 10 Luminous

: Light skin with yellow undertones

 

BB Cream Shade 20 Aglow

:  Medium skin with yellow undertones

 

BB Cream Shade 30 Radiance

: Tan with warm golden undertones
Our hydrating liquid-cream formula gives you a luminous complexion with buildable medium to full coverage and a dewy, natural finish. Thousands of light-reflective mineral pigments give skin a soft, incandescent glow. Our BB Cream is perfect for people with normal to dry skin, and can help to cover dark spots, scars, and fill in any fine lines or wrinkles with a supple and dewy finish. Our natural BB Cream will give you a glowing, flawless and illuminated complexion.